Summary
The "Bill of Materials" feature of ArchFX React lets a manufacturer define the Bill of Materials (BOM) that go in to a Product and specify the Downtime Reasons for which the Bill of Materials should be shown. Then, when a downtime event occurs that is related to one of those BOM items, the operator can indicate which BOM Item caused the downtime event.
Enablement
This feature is not turned on by default. Email help@archsys.io if you want the BOM feature enabled at your site. You will need to provide Arch Systems the following information:
List of sites that should have the BOM feature enabled
List of Downtime Reasons that should have the BOM feature enabled
Filled-in spreadsheet for each Product that should have a BOM Item list defined (see attachment to this article)
A BOM Item list will be associated with the Product (Assembly Definition) at a Site (not at the level of an Area or a Line). For example, you could define a BOM Item list for an "Advanced Web Server Board" Product and then ask Arch Systems to make that Product available at each Site that manufactures it.
How to Create a Job with a Product that has BOM Items Defined
Open the Create Job dialog at a site that has Products with BOM Item lists defined. Then, click in the Product field to display the Product selection control: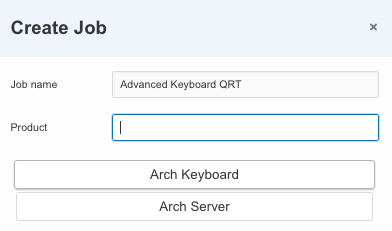 Choose a Product for which a BOM Item list has been defined (e.g. "Arch Keyboard" in this example):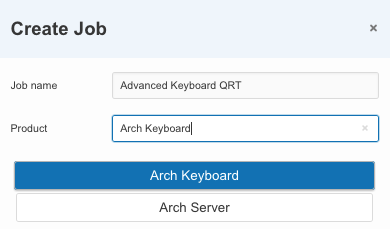 Now, when a downtime event occurs that's related to a BOM Item, you'll be able to choose the BOM Item at fault when labeling the downtime event as described below.
Labeling a Downtime Event with a BOM Item
When a downtime event occurs, open the Edit Downtime or Update Downtime dialog and choose a Downtime Reason (here, "Material Shortage") that causes the BOM Item selection control to be displayed: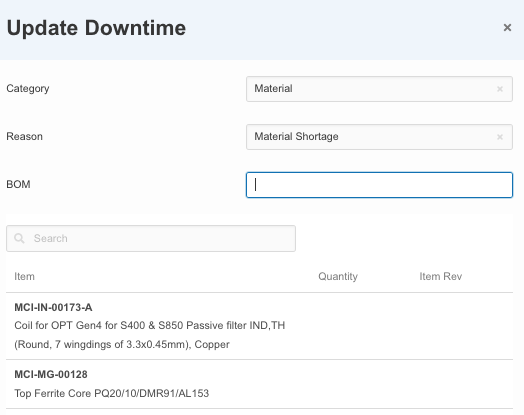 Click on the BOM Item on the list that caused the downtime event to occur: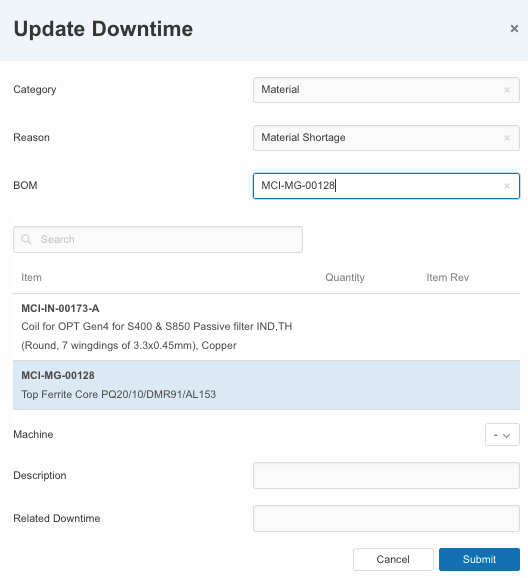 Submit to save your changes.