Summary
The "Part Numbers" feature of ArchFX React lets a manufacturer define the parts used in each factory machine and specify the Downtime Reasons for which the part numbers list should be shown. Then, when a downtime event occurs that is caused by a machine, the operator can indicate which part caused the downtime event.
Enablement
This feature is not turned on by default. Email help@archsys.io if you want the part numbers feature enabled at your site. You will need to provide Arch Systems the following information:
List of sites that should have the part numbers feature enabled
List of Downtime Reasons that should have the part numbers feature enabled
Filled-in spreadsheet for each machine that should have a parts list defined (see attachment to this article)
A Part Numbers list will be associated with a Machine Model at the Organization level (not at the level of a Site, Area or Line). For example, you could define a Part Numbers list of the class of "Siplace X4" Pick-and-Place machines and then ask Arch Systems to make that list available at each Organization that uses Siplace X4 Pick-and-Place machines.
Labeling a Downtime Event with a Part Number
When a downtime event occurs, open the Edit Downtime or Update Downtime dialog, choose a Downtime Reason (here, "Nozzle Issue") that causes the part number selection control to be displayed, and select the Machine that caused the downtime: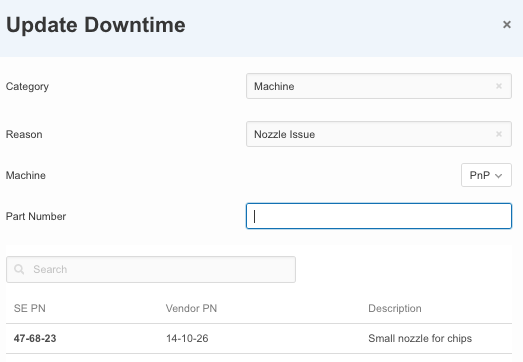 Click in the part number field to display the selection control, and click on the part number on the list that caused the downtime event to occur: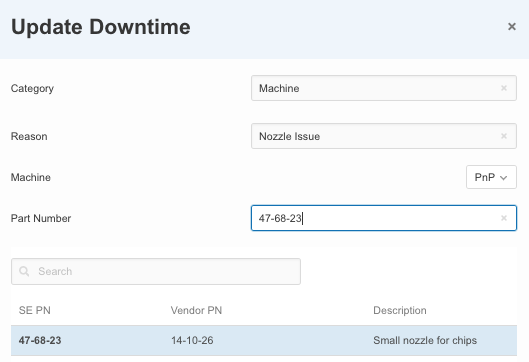 Submit to save your changes.