Frequently, during Machine onboarding, some of a Machine's metadata may not be entered. Machine metadata includes:
Label (the machine's user-friendly name that will be understood by site staff, e.g. "PnP 1"
Serial Number (defined by the machine vendor)
Asset tag (defined by the customer)
Manufacturing Year
ArchFX Cloud administrators can edit a Machine's metadata as follows.
1. Log in to ArchFX Cloud
2. Open the Machine
(Not sure how to find the Machine? Read about how to Search for the Machine using its Label (name) or browse to it from its Site.) In this example, we searched for a Machine using its Label 16325, then click the Machine's Label 00016325 to open the Machine: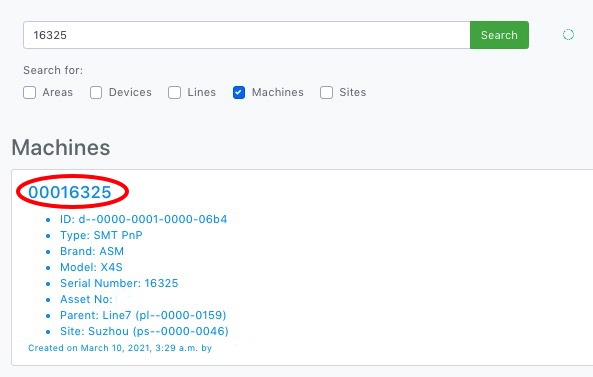 3. Click Edit

4. Update the metadata and click Submit to save