We have two ways of calculating and presenting SMT line KPIs in the Global KPIs solution: Cycle Time-based or Components Per Hour (CPH)-based (which is derived from installed placement capacity). We can offer both on our Global KPIs Solution for SMT manufacturing.
Areas that are not SMT lines, such as Mechanicals machine areas, use the "Basic KPIs" KPI Set type.
Choosing the KPI Set to view
If both KPI Sets have been made available in your deployment, you choose which KPI Set you want to view using the KPI Set pulldown menu in the top-right corner of the screen: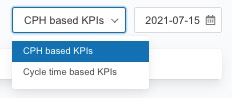 CPH-based KPIs
CPH-based KPIs derive metrics from the potential CPH that machines on the line are capable of attaining. Customers determine a "theoretical target" benchmark value for each machine/head combination from any of:
the vendor benchmark/catalog value
an estimated IPC value
their own testing
Once a customer's benchmark value for each combination has been determined, the customer commonly derates the targets based on factors such as whether the lines are running New Product Introduction (NPI) or Production, type of product, etc. For example, a customer might choose to use a derating factor of 50% on Production lines (reducing the target by half) and a derating factor of 20% for NPI lines (reducing the target by 80%). The metrics are then presented by comparing actual placements to derated targets.
For more information, see:
Cycle Time-based KPIs
Cycle Time-based KPIs are calculated based on a "golden cycle time." We analyze production data and look at the typical cycle time when the line is running smoothly during a continuous production session. This cycle time becomes the "Golden Cycle Time." KPIs are then calculated based on the actual unit production time compared to the golden cycle time.
For more information, see:
Basic KPIs
Basic KPIs are similar to CPH-Based KPIs. Both are based on units of production per hour. However, "Components Per Hour" is a concept that is specific to Pick and Place machines placing components on boards. Other machines, such as Mechanicals machines like injection molding machines or presses, produce units of output per hour but not placements per hour, so they use the "Basic KPIs" KPI Set.