Summary: To record the reason for a downtime event during a job, click "Edit" on the Summary tab while the downtime event is in progress, or go to the Downtime tab during the shift and click "Update" on the downtime event. When a job is not in progress, you can click the "Report Downtime" button on the Downtime event to report a downtime event manually and later click "Clear Downtime" when the event ends.
Reporting downtime reasons for automatically-detected downtimes
ArchFX React will automatically detect a downtime event when the takt time exceeds the target by 20% or more. When a downtime has been detected, the Summary tab will notify the operator. The status panel includes an "Edit" button so the operator can report the reason for the downtime: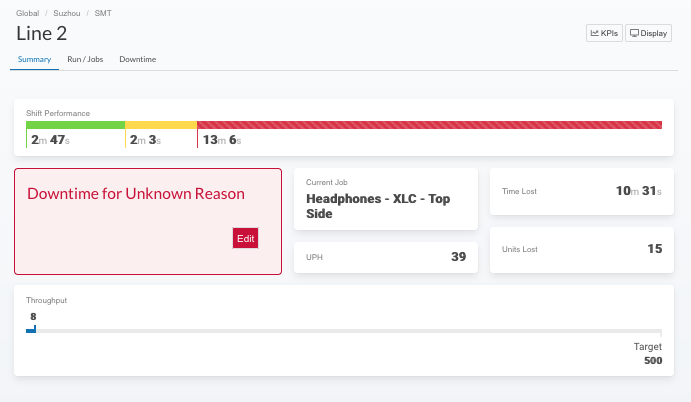 You can also find a previous downtime event later on the Downtime tab's list of downtime events. That enables operators to catch up on downtime event reporting during the shift if they weren't able to report the downtime event during the event.
NOTE: Currently, operators must report downtime events during the shift. A future release will add the ability to report downtime reasons for downtime events that occurred during previous shifts.
Using the Update Downtime dialog
The Summary tab "Edit" button and the Downtime tab's "Update" buttons both bring up the "Update Downtime" dialog: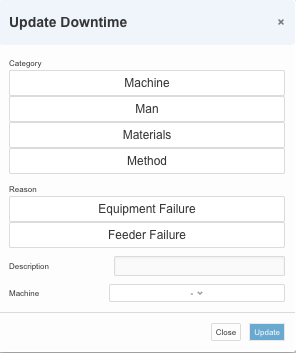 First, the operator chooses the Downtime Category from the options presented. When the Downtime Category is selected, the Downtime Reasons for that category will be displayed in the next section, and the operator selects the Downtime Reason.
Optionally, the operator can then type in a text description of the downtime event and/or choose which machine caused the downtime event. Finally, the operator clicks "Update" to save their changes.
Learn more about ArchFX React: