ArchFX React enables manufacturers to accurately track the reasons for downtime on their Surface Mount Technology (SMT) or back end assembly manufacturing lines or mechanical manufacturing machines so that causes of poor performance can be identified and triaged for investigation. It enables operators, line managers, and other supervisors to monitor the status of jobs in real-time so that urgent issues can be identified and addressed immediately. Analytics enable teams to review each shift's, day's, and week's performance to support continuous improvement.
Log in to ArchFX Cloud
To use ArchFX React, start by logging in to ArchFX Cloud at the URL Arch Systems provided you.
Open ArchFX React

At the App Launcher, click "React." (If you don't see this option, email help@archsys.io and request access.)
Choose your site and area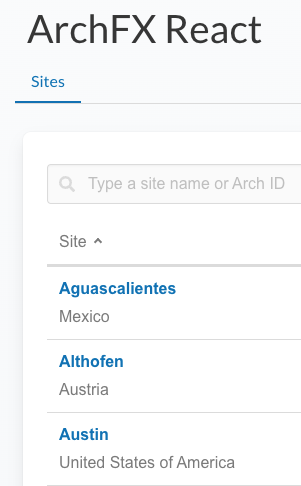 Choose your site from the list. Then, choose your area from the list of areas at the site.
Supervisor View lists all the lines or machines in your area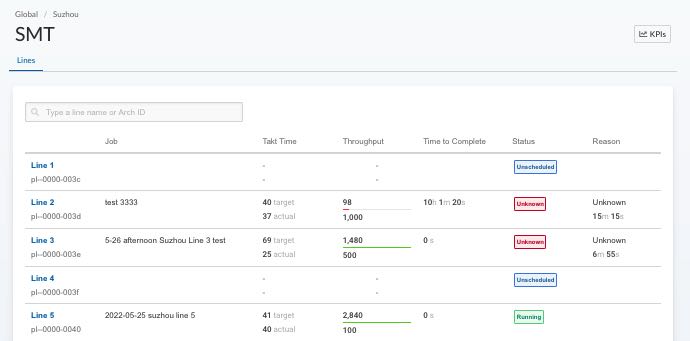 Open the area shows the Supervisor View for all the lines in a SMT or back end assembly area or all the machines in a mechanicals area. SMT Line Managers and supervisors use this view to see which lines are running, idle, unscheduled, or down, what reason has been reported for in-progress downtime events, how many units have been produced, and what the estimated time for job completion is.
Open the line or machine you want to work on
If you are an operator (or a manager who wants to create a job), you click the name of the line or machine you want to work on to open the Summary view for that line or machine.
Learn more about how to use the Summary, Job / Shift, and Downtime views and the rest of ArchFX React:
React Analytics: